Welcome to my 2021 Fantasy Football ADP Analysis, where we break down the movers and shakers on 2021 Fantasy Football draft boards. This is the first in a three-part series, the latter installments appearing at the beginning and end of August.
Our goal is to find you any edge we can heading into your fantasy draft, and one of the best ways to do so is by understanding the general market. Who are people high on? What players have the general populous written off altogether? We will be breaking down one of the biggest risers and fallers in some of the most important positions in fantasy. To start things off, we will not be including D/ST units because their market has no major fluctuation. If that changes over the next month, they will certainly be included in the conversation.
Before we dive in, let me give you a bit of a breakdown as to how we'll be determining these players. We are sourcing our ADP movements from Fantasy Football Calculator.  The 12-team Half-PPR format will be our default scoring system for this series. Unless otherwise specified, we will be looking at these players over a one-month window.
Also, for those new to ADP (average draft position), the statistic is stylized as a decimal. The number before the decimal is meant to signify the round, and the numbers after the decimal signify the pick within that round. For example, a player with an ADP of 1.12 is, on average, being selected with the 12th pick of the first round. Let's dive into my 2021 Fantasy Football ADP Analysis.
2021 Fantasy Football ADP Analysis
Complete a free five-minute mock draft against industry experts and custom analysis for your team with the FantasyPros Draft Wizard.
2021 Fantasy Football ADP Analysis for Quarterback
Trevor Lawrence" />
We all knew the Golden Boy from Clemson was going to be an intriguing fantasy prospect in his rookie year. We all know from his film that Trevor Lawrence possesses elite arm talent, solid mobility, and the decision-making skills of a seasoned veteran. For dynasty players, drafting Trevor Lawrence should be a foregone conclusion. This guy in the next few years is going to be a top-tier quarterback.
His rookie campaign, however, is another story entirely. I'm not sure anyone is entirely confident predicting how this new-look Jacksonville Jaguars team is going to perform under Urban Meyer. I've heard more than one national writer mention Trevor Lawrence is talented enough to not only turn this Jaguars team around, but he may even position them to win the division this season. That would certainly be a shocking turnaround from last year's 1-15 campaign.
Regardless of the uncertainty surrounding Jacksonville, everyone seems to be betting on Trevor. In June alone, Lawrence has ascended from an ADP-low of 14.02 all the way up to 9.10. Fantasy Football Calculator now lists Trevor Lawrence as QB13 in this format, ahead of the likes of Ryan Tannehill, Matt Ryan, Baker Mayfield, and Kirk Cousins. The skepticism surrounding the rest of Jacksonville's roster may make this valuation a little too rich for my blood. Trevor Lawrence is going to be a truly special quarterback, but I am unsure as to whether he'll be a fantasy QB1 right out of the gate.
You can read my breakdown of the offense Trevor Lawrence will be running this season here.
Tom Brady" />
Fantasy Football Calculator hasn't highlighted any quarterbacks that have drastically fallen in the short term. Instead, I've chosen to highlight a glaring market inefficiency. For some reason, after more than two decades of evidence to the contrary, people are once again doubting Tom Brady.
Since the calendar rolled over to 2021, Tom Brady's ADP has plummeted from a peak of 4.08 in January all the way down to 7.07. Currently sitting at QB9, Brady sits a full round below Russell Wilson and Justin Herbert while sharing an ADP with Jalen Hurts. I don't care how big of an Eagles fan you are, I cannot fathom a reality where Jalen Hurts statistically outperforms Tom Brady.
What makes this slide even crazier? Every piece of evidence we have received should indicate Tom Brady's stock is rising, not falling. The Tampa Bay Buccaneers have yet to lose a game in 2021. They knocked off the New Orleans Saints, Green Bay Packers, and Kansas City Chiefs en route to Tom Brady's 7th Super Bowl ring.
Tampa Bay managed to retain all twenty-two starters heading into 2021. Brady even admitted he didn't know Tampa Bay's offense until midway through the season.
A Sleeping G.O.A.T.?
Every sign is pointing toward Brady having another great season. If Brady is firing on all cylinders in the pass-happy Arians offense, he could certainly find himself in the top-5 fantasy quarterbacks.
That shouldn't be possible at age 44. How does this keep happening? We spend every offseason speculating about how 31 other teams will perform, then whatever team Brady plays for is one of the four left playing in January.
Dread it. Run from it. Tom Brady is inevitable.
Running Back
Najee Harris" />
I don't think it's any secret that the Pittsburgh Steelers will be getting a lot of usage out of their first-round draft pick this season.
The conventional wisdom around the analytics community suggests that drafting a running back in the first round of the NFL Draft is a bad pick. However, I think Pittsburgh's decision to draft Najee Harris this year was a good idea. Harris can do it all. Often overshadowed by his receiver teammates at Alabama, Najee Harris was a force to be reckoned with at Alabama. For a team that finished 28th in Rushing EPA and 30th in Rushing DVOA, Najee Harris will be a welcome addition. Ben Roethlisberger is not aging as gracefully as Tom Brady, and the receiving core is already stacked.
The opportunity for Harris is obvious, and that is reflected in his ADP. While the chart above shows his rise from the 7th round all the way up to 3.11, looking further back shows just how far Harris has risen. Harris's ADP had plateaued at the 10th round until the NFL Draft, and he's seen a steady incline since.
But Wait, There's More
The problem? Najee Harris has no one to run behind. Pittsburgh's offensive line ranked toward the bottom of the league last year and may have gotten even worse in the offseason. Maurkice Pouncey retired. Matt Feiler and Alejandro Villanueva left in free agency. David DeCastro was unexpectedly released from the team. Even if you think the offensive line needed some work, the fact that every member of Week 1's starting line is no longer on the roster usually doesn't bode well.
Najee Harris is going to get ample chances to succeed. I think he will almost certainly be a 300-touch back. However, the offensive line dictates as much success for the running back as the back's own ability. Fewer holes open up. Blocks aren't held for as long as they need to be. More blitzing players go untouched. Harris is going to get his, but I worry about his health and his per-carry efficiency behind this makeshift offensive line.
Falling: James Robinson, Jacksonville Jaguars
James Robinson" />
Another member of the Jacksonville Jaguars makes the list. James Robinson was the diamond in the rough of last year's fantasy season. The undrafted free-agent finished 7th among running backs in Half-PPR leagues with over 1,000 yards rushing and 10 total touchdowns. Logic would dictate that a player in this position on a UDFA contract would set Robinson up as the long-term starter in Jacksonville. Then came the NFL Draft.
The Jacksonville Jaguars selected Trevor Lawrence with the first overall pick of the draft, but they also drafted his Clemson teammate Travis Etienne 25th overall. The Jaguars also signed Carlos Hyde in the offseason, but the addition of Etienne is where public perception of James Robinson from a fantasy perspective really began to shift.
A team with three running backs undoubtedly will be operating out of a committee system. However, Etienne and Hyde should not entirely eliminate Robinson's contribution to the team. Urban Meyer has stated that Robinson and Hyde will be the lead backs with Etienne taking on third down responsibilities with additional gadget roles. Meyer has even gone as far as to say Robinson will be the "hammer" of the offense.
That means that Robinson will be getting most short-yard opportunities, including plays on the goal line. While last year's success story may not be able to 100% replicate last year's production, he will be more than capable of matching his fantasy output.
The Best Running Back Value?
I say all this to say that Robinson is currently bordering on "steal" territory. Robinson's ADP got as high as 2.02 before falling down into the middle of the fourth round. There's an ideal scenario where you can draft your go-to RB1 in the first, two wide receivers, then pick up last year's 7th-best running back as your RB2. The public is overvaluing the contributions of Travis Etienne. His ascent from an 11th-round ADP to a 6th-round ADP is indicative of how excited people are about the rookie out of Clemson. While he will certainly get touches, it needs to be stressed that Robinson is still the lead back in this room.
2021 Fantasy Football ADP Analysis for Wide Receiver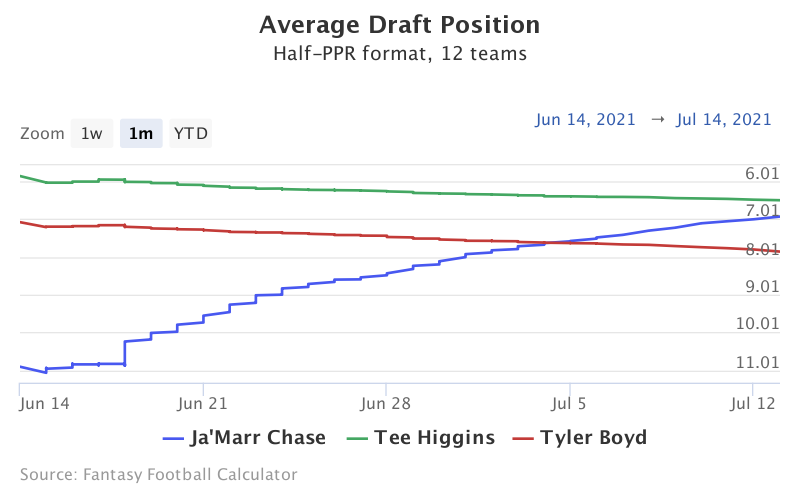 Ja'Marr Chase, <a rel=" />Tee Higgins, Tyler Boyd" />
The Cincinnati Bengals rookie receiver is looking to make a splash with his former teammate, quarterback Joe Burrow. Narratively, it's all there. Chase and Burrow won the National Championship together, with Chase averaging 127.1 yards per game in the process.
Last year's non-quarterback Offensive Rookie of the Year was undeniably Minnesota Vikings' wide receiver Justin Jefferson, also an LSU alum. Chase was the first wide receiver off the board, so expectations are already high. Can he live up to them? Honestly, yeah.
The volume Chase needs to succeed is already in place. Last year, the Bengals ranked 13th in pass frequency in 2020, but ranked 6th in games started by Joe Burrow. Three Bengals receivers topped 100 targets in 2020. One of them, A.J. Green, is no longer on the team.
If we look at Justin Jefferson's statistics from 2020, the Vikings receiver averaged 15.9 yards per reception on 88 receptions. In Chase's championship-winning season at LSU with Joe Burrow, he put up a wild 21.2 yards per reception on 84 receptions. There's a reason Cincinnati opted to draft Chase over an offensive lineman: at his peak, Ja'Marr Chase is nearly unguardable.
Exercise Caution
However, I would like to exercise caution when drafting Chase. I wouldn't enter your Fantasy Draft projecting Chase to have an identical season to Justin Jefferson's 202 campaign. Jefferson was the second wide receiver in a two-receiver system.
Chase is entering a slightly more crowded receiving room, and his teammates are pretty darn talented. Ja'Marr Chase, Tee Higgins, and Tyler Boyd could be one of the best young receiving cores in the entire NFL. The ball is going to be spread across the field. On top of that, Cincinnati is going to have very little time to throw.
The decision to draft Chase came at the expense of Joe Burrow's protection. I would be worried about Chase's average depth of target, which would minimize his big-play opportunity and lower his fantasy output.
I am personally a huge fan of Chase's game, but one needs to recognize he may not be in the best environment to succeed.
Rashod Bateman" />
Rashod Bateman was one of the more intriguing prospects among that second tier of wide receiver draft prospects. Many NFL prognosticators had Bateman as the fourth-best receiver behind the big three of Chase, Devonta Smith, and Jaylen Waddle. As indicated in the chart above, those high hopes seemed to take a bit of a turn once he was drafted by the Baltimore Ravens.
I understand the concerns around Bateman's opportunity for success in an offensive system like Baltimore's. They ran the lowest percent of passing plays in 2020. The volume simply wasn't there last year to facilitate any high-scoring fantasy receivers. However, to quote the title of an S. E. Hinton novel, that was then and this is now.
The numbers are there for Lamar Jackson to be a good passing quarterback. In 2020, per RBSDM, Lamar Jackson finished 16th in CPOE (completion percentage over expected) and 8th in air yards per attempt. Jackson was targeting receivers deep down the field, and his positive CPOE tells us that he was making more passes than he was supposed to. On top of that, the heavy run rate was most likely due to the disparity of skill between Baltimore's running backs and receivers. Marquise Brown, who led Ravens receivers in targets last year, is now a strong WR2 or WR3 behind Bateman and free-agency addition Sammy Watkins.
Say What?
Yes, you read that right. Rashod Bateman is already ahead of Marquise Brown on the depth chart. In fact, I'd say that Bateman is already WR1 on this roster. The additional receiving skill for the Ravens should lead to a higher frequency of passing plays. That means more opportunities for Bateman, who has the speed and separation ability to beat corners and bust plays wide open.
Even if you doubt the Ravens' ability to throw the ball, one thing is undeniably true: if you can get a team's leading wide receiver in the late rounds, you take him. Just take a flier out on Bateman. He could end up being your golden ticket.
Tight End
Kyle Pitts" />
"He's a unicorn." "He's already the fourth-best tight end in the league." "He's the second-best player in this draft behind Trevor Lawrence."
You've heard it all about Kyle Pitts before. The praise being lauded onto Pitts borders on the extreme, but It's hard to find the fault in it. Pitts is a dynamic pass-catching weapon the likes of which we seldom see at the tight end position. While it certainly doesn't fit the Atlanta Falcons' current timeline, they were more than justified in drafting Pitts 4th overall in this year's NFL Draft.
Pitts is certainly in the right position to see early success. Atlanta's new head coach Arthur Smith ran the third-highest rate of passing plays out of 12 personnel in 2020. That personnel grouping (one running back and two tight ends) led to Jonnu Smith getting a hefty paycheck from the New England Patriots. By contrast, Atlanta ran just 14% of their passing plays out of 12 personnel, one of the lowest rates in the league. If passing games are an important piece of the Falcons' passing offense going forward, Pitts will be the prime beneficiary.
Be Careful
Before drafting him, a word of caution from legendary former tight end Greg Olsen: "In my 12 years now there's been a handful of rookies that have come in and been productive. You don't see the production level early at the tight-end position that you do at wide receiver or running back or even the offensive line. I don't know why." Immediate success out of rookie tight ends is extremely rare. Mike Ditka is the only rookie tight end to ever catch for more than 1,000 yards his rookie year. If you like Pitts' chances to break a record that's stood for 50 years, now is the time. If you want to play it safe, pass-catching tight ends have become increasingly abundant in recent years. Try your luck there.
Falling: Hunter Henry, New England Patriots
Hunter Henry, Jonnu Smith"
The New England Patriots are turning back the clock to the 2010s and bringing back their hyper-dominant two-tight end passing offense. New England bullied defenses for half a decade when Rob Gronkowski and Aaron Hernandez took the field together. That tandem obviously didn't last long for, uh, reasons… but the Patriots have had very little success replicating it. The closest they came was pairing Martellus Bennett with Gronkowski, but that only lasted a single season. Gronk continued to dominate, but eventually retired following Super Bowl LIII due to the toll football took on his body.
New England has had very little success drafting tight ends since the Gronk/Hernandez selections. Most recently, New England doubled up on tight ends in the 2020 NFL Draft with Dalton Keene and Devin Asiasi. Last year, the two combined for 12 total targets. In 2021, the Patriots admitted defeat. How? By signing the two best tight ends available in free agency: former Titan Jonnu Smith and former Charger Hunter Henry.
Now I understand hesitating when drafting a tight end in a two-TE system. Tight ends already see fewer targets than their wide receiver counterparts. Logic dictates that one tight end would take targets away from the other. In New England, things roll differently. Continuing to use Gronkowski and Hernandez as a model, the two combined for 237 targets, 2,237 receiving yards, and 25 total touchdowns during the Patriots' 2011 season. Are Smith and Henry directly comparable to peak Gronk and Hernandez? No. Does the volume necessary for high-scoring fantasy tight ends exist in the New England system? Absolutely.
In Short
If you are in a PPR league, I would specifically go for Hunter Henry over Jonnu Smith. Smith's size and game make him align more closely with a role as a do-it-all tight end. Smith can stay in to block, take passes over the middle, and overpower coverage defenders in the red zone. Henry, on the other hand, feels more like a tight end you can split out and run real routes with. Even after the additions New England made at receiver the offseason, the group is still overall pretty average. Henry could end up as the third- or even second-best pass catcher on this roster.
I don't think you can really go wrong drafting a New England tight end this year. However, at their current value, Henry is my answer. There is no current evidence suggesting Hunter Henry should have an ADP two whole rounds below Jonnu Smith. New England might have two of the ten best tight ends in the league. Snagging Henry in the 11th round feels like a steal.
Stay tuned for the update of my 2021 Fantasy Football ADP Analysis in August!
---
If you enjoyed the 2021 Fantasy Football ADP Analysis, check out more 2021 Fantasy Football content from our great team of writers!